To Close:
Pull down the top runner to sit on the lower runner at the bottom of the zip.
Insert the male pin into the sliders on both runners ensuring that it reaches the bottom whilst holding the two runners together. (If this is not done properly it can lead to faults on the zip).
Holding the male side of the zip and jacket at the bottom to create some tension, pull up the top runner.
To Open:
Pull the top runner down to the bottom runner. Remove the male side gently from both runners.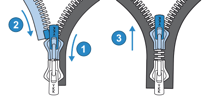 TIP!
All zips should be closed completely before washing. A zip left open can damage fabric or cause the tape to the fastener to shrink.